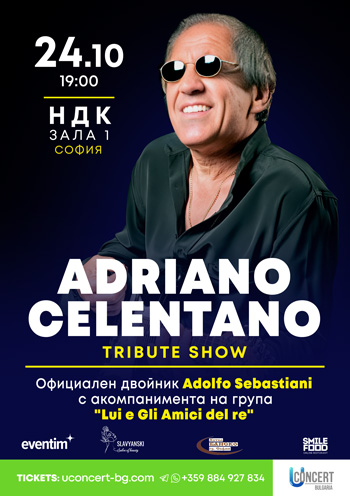 ADRIANO CELENTANO. Tribute show by ADOLFO SEBASTIANI
Remained
45 tickets
before the price increase!
SHOW WITH ADRIANO CELENTANO'S HITS IS COMING TO SOFIA ON 24TH OF OCTOBER!
For over 50 years, Adriano Celentano has been rightfully considered the world's brightest singer and actor. He is one of the most successful and influential performers in the history of Italian music - throughout his career, he has released 41 studio albums, selling a total of 150 million copies, and has starred in more than 40 films. Adriano hasn't toured outside of Italy for over 10 years, but that doesn't mean that the magic of his show has disappeared from the world stage! You can feel the energy and enjoy your favourite songs at the show of Celentano's hits performed by his official impersonator Adolfo Sebastiani with the participation of the maestro's musicians!
Of the many who have tried to imitate the Italian legend, only Sebastiani has been able to recreate the Italian maestro's unique charisma. Celentano himself, having attended one of Sebastiani's performances, called him his official double and said: "It feels like there are two of us now!". Sebastiani himself is not only incredibly similar to Celentano in appearance, but also in mannerisms and voice timbre. For more than 20 years, he has been conquering the world stage with the band "Lui e gli amici del Re", which is also recognised as the best Adriano Celentano tribute band in the world.
For the first time, you will have the opportunity to experience the magic of the Celentano show by Sebastiani live in Sofia on 24th of October, in NDK, Hall 1 at 19:00. The programme includes all the great maestro's hits.