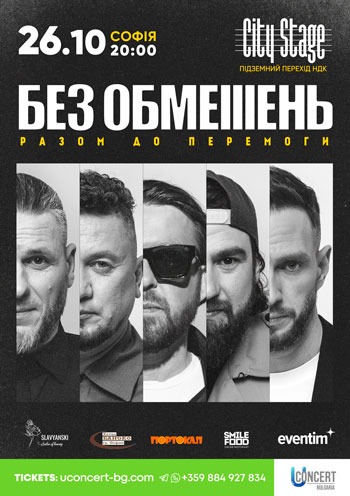 БЕЗ ОБМЕЖЕНЬ. «Разом до Перемоги»
Remained
100 tickets
before the price increase!
FOR THE FIRST TIME!
"Bez Obmezhen" with a concert in BULGARIA!
See you on October 26 at the concert as part of the European tour "TOGETHER FOR VICTORY".
Meeting place - City Stage club, address - NDK underground passage
Open door - 19:00.
The concert starts at 20:00.
Energetic concert in support of Ukraine, favorite hits and new songs of the band!
"BEZ OBZEMZHEN" ("No Limits") is a Ukrainian band that gathers thousands of people in cities and millions of listeners on music platforms. Their work is the personification of the world view of Ukrainians - brave, sensual and unbreakable.
"People love Bez Obmezhen for their high quality Ukrainian music, openness and civic attitude. From the first days of the war, the guys have already played many concerts in support of Ukraine, the army and Ukrainian people affected by the war.
In 2022, the band played about 100 charity solo concerts as part of the Free People Tour in support of the Armed Forces of Ukraine and abroad. The sold-out concerts took place in Moldova, Germany, the Czech Republic, Cyprus, Portugal, the United Kingdom, the United States, Spain and Canada. The band also gave about 80 charity concerts for the Ukrainian Armed Forces in permanent deployments, on the front lines and in hospitals.
In 2023, the band plans to perform more than 150 concerts in support of the Armed Forces in Ukraine and abroad.