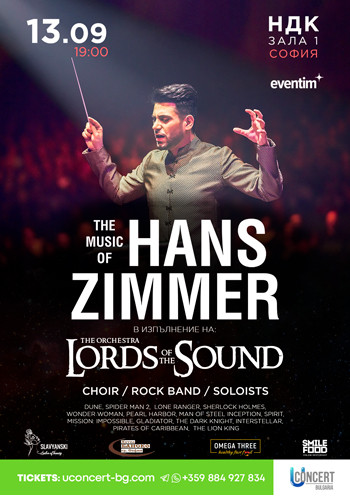 Lords of the Sound. The Music of Hans Zimmer
The music of Hans Zimmer will be heard again in Sofia on September 13th!
The incredible concert of Lords Of The Sound with the best compositions of Hans Zimmer will immerse you in unforgettable sensations. Hits from movies will be played in the hall: "Dune", "Spider-Man 2", "The Dark Knight", "Interstellar", "Gravity", "Sherlock Holmes, "Angels and Demons", "The Da Vinci Code". ", "Pearl Harbor", "Gladiator", "Mission Impossible", "Inception", "Pirates of the Caribbean", "Ghost", "Wonder Woman", "Madagascar".
The symphony orchestra will surprise you with a unique show program, theatrical productions, bright special effects and unstoppable energy!
We are waiting for you on September 13th in NDK Hall 1!